Who doesn't have a GMail nowadays? And where doesn't one use it? It gives you access to your email from almost everywhere, at home, at work, a friend's house, a mobile device or even a public library or a cybercafe. Moreover, it also allows free POP3 and IMAP access. It is mobile device friendly too.

Many times, I access it from multiple locations. I use it at home and when I go to office use it there too. Each login opens a new session wih GMail. What if I forget to log-off from one location? The session remains active, which can be scary, especially if it is at some public terminal. Any other user who accesses your computer can have access to ALL your emails and also get the passwords of other online services that you may have subscribed to, if they send you such information on registering or on regular basis as reminders.

Usually, I remember to log off from each session, but later I always wonder if I really did. Especially if I accessed from a public location like the library.

Gmail is now trying to address that by letting YOU know if you're still logged on elsewhere and giving you a chance to disconnect remotely. Now I do not need to wonder anymore.

At the bottom of a Gmail inbox is a small notice of other active sessions. The new feature, being rolled out to users in waves, also offers some information on the time and location of recent Gmail activities. I just noticed it in my GMail, this was at the bottom:
Notice the "Last Account Activity". When you click on "Details", you will see this in a pop up page: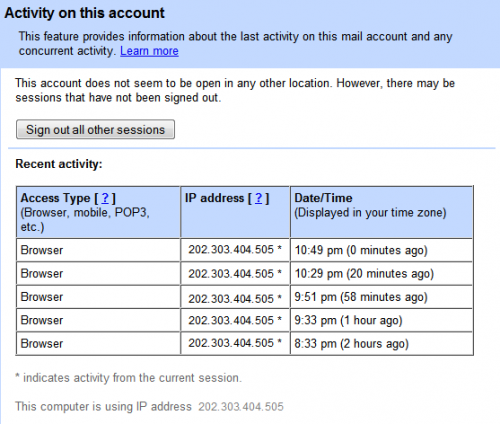 Notice the Sign out of all sessions button and the IP address of each location that you accessed GMail in the last 2 days (I have filled dummy data here). You will find this notification very useful, but obviously, it is not foolproof. You have to be logged on somewhere to be able to learn about the presence of other active sessions, and you have to look carefully for that notice at the bottom of the page. But this feature does add an extra level of comfort.
GMail team has been innovating endlessly. That makes it the best webmail with POP3 and IMAP access today.