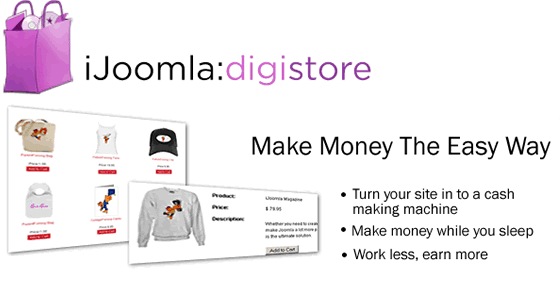 These days, there's no faster or easier way to start making money than with an online store. From downloadable software to antique silverware, millions of people have discovered how simple it is to get an online business up and running.

And now with iJoomla DigiStore, it gets even easier! Within literally minutes, you can have a front-end store that allows you to sell digital AND tangible goods - no merchant account and no SSL necessary!
iJoomla DigiStore is a hands-off Joomla store that enables you to generate income with minimum work and maximum profit. It was designed with simplicity of use in mind. Find out about the different features, see the live demos, client showcase and testimonials, and get answers to all the frequently asked questions.

And unlike other e-commerce solutions now being used with Joomla, iJoomla DigiStore was created specially for Joomla. That means it works right out of the box, no bridges, no hacks and no hassle! 
 + Read more about the iJoomla DigiStore
 + More Products